SpaceMax Storage lends its hand to upcoming episodes of DIY Network's Mega Dens.

In DIY Network's newest show Mega Dens, host and interior designer Anitra Mecadon creates over-the-top rec-room sanctuaries while giving viewers the skills to renovate their own family spaces. These unbelievable room renovations feature incredible home theaters, innovative gaming areas, clever storage solutions, and more. Anitra's rock 'n' roll approach to design transforms these rooms beyond the homeowners' wildest imaginations.

While shooting in Atlanta, the Mega Dens television crew stored furniture, nice pieces of rare wood and other items to decorate the rooms on the show in SpaceMax Storage's climate controlled units. Outside elements such as heat, humidity and wind can wreak havoc on sensitive interior design elements needed in the TV show. The SpaceMax state-of-the-art storage technology was designed precisely to protect such expensive furniture and decor from harm, and the guys at SpaceMax were honored to contribute to the production of the program.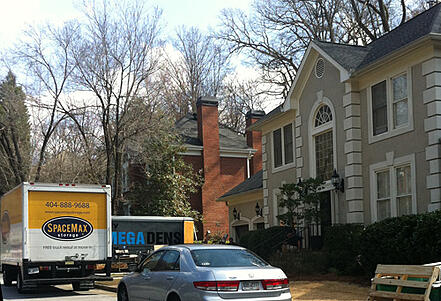 DIY Network also used the SpaceMax truck to move material from the storage facility to various locations around the Metro Atlanta area, allowing the show to control ever-increasing transportation costs.

For more information about Mega Dens, please visit their website at: www.diynetwork.com/mega-dens/show
For more information about SpaceMax's business storage, please visit: Business Self Storage.
Please check back soon for a link to the complete episode after it airs.