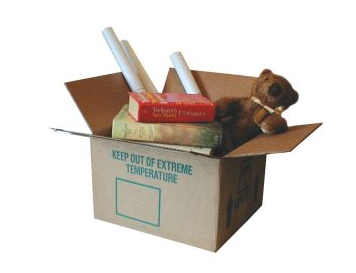 Moving. Buying a new house. Going off to college. Renting a new apartment. Living in a new city. It can be really, really fun.
But the actual "moving" part? Oh, that's no fun at all. In a very real sense, when you move, you pack up all the things from your old life, including a bunch of stuff you forgot you even had, and lug it along to your new life. And there are so many things to do. Things that if forgotten, tend to ruin your day (or week).
So to make the necessary evil that is moving as painless as possible, make sure you should go through a thorough checklist and ensure you've taken care of everything on it. Sure, check lists are boring. But they work. For small moves and big. Save yourself tears, sweat (and blood), and use a good checklist whenever you move.
So here's our list to help you figure out what to do when moving:
If needed, make arrangement with a good moving company. Get quotes from multiple vendors.
Arrange utilities for your new home (and cancel or transfer them from your old home):
Power
Gas
Phone
Cable
Water
Use a good storage company, if you need to store extra stuff. Read here for steps to renting self storage.
Take final meter readings and phone them in (or call the first day the utilities are open).
Inform companies who regularly bill you at your old address of your new address:
Bank
Investment Accounts
Mobile Phone
Magazines
Inform Service Vendors of your new address:
Maid service
Lawn service
Pest control service
Alarm service
Arrange a mail redirect through the post office.

Is everything packed, removed, binned or accounted for?
Pack items for different rooms and functions in separate boxes and label each clearly. Get our free labels here.
If you're leaving furniture, check there's nothing in, underneath, behind or on top of it
Fulfill any required tasks that will ensure return of your security deposit.
Mark any needed repairs within your old home.
Leave unneeded manuals for appliances or other items left behind.
Transfer government identification items like driver's license, visa, passport or work permit to your new address.
So there you go, we hope that helps make your life a little easier. Call us if you have any questions and please comment below with your moving tips and ideas.
If you're looking for self storage in Atlanta or have some questions about this check list, please give us a call.